Affordable Health, Injury Care, Safety and Wellness Services for Employers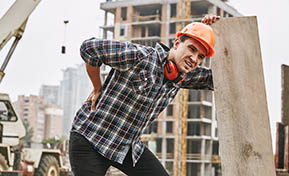 Your business needs occupational health care for healthy employees and productivity. Family Practice Center of Palatine Health Clinic offers a comprehensive package of affordable health, injury care, safety and wellness services for employers. We partner with companies to assist in maintaining a healthy and productive workforce, and to become their single resource for occupational health services.
At our Occupational Clinics, Qualified professional staff consisting of physicians, nurses, nursing assistants, and support staff with a high degree of occupational medicine experience.
Each company has a profile created which specifies the employer's requests for services according to your needs, contact information and instructions for post care.
The profiles are available at all treatment sites so that care is consistent and meets the employer's requests.
Wellness and Preventive Health
Programs can be designed specific to your needs and may include but are not limited to:
Blood pressure screenings
Smoking cessation
Flu vaccine program
Hepatitis B vaccine programs
Health fairs
Health Screenings
A variety of screenings and exams are available:
Pulmonary function testing
Back assessments
Medical surveillance including respirator use, hazardous materials and chemical exposures, blood pressure screenings, cholesterol screenings, TB screenings and more. These screenings can be performed at both locations or may be available on-site
Injury Care
Quick and efficient work injury care and timely return to work
Complete diagnostic testing and treatment available
Communication with employer during treatment phase
Specialty physician referrals available as required
On-site rehabilitation services
After hour initial injury care provided at our location.
Physical Exams
Post offer exams
Executive exams,
Annual exams
Return-to work exams
Fitness for duty exams
Exam components can be added to each exam based upon the client's needs and industry type.
Substance Testing
Department of Transportation drug testing
Substance Abuse Panels
Breath alcohol testing
Consortium services
Our Location
371 W. Northwest Hwy
Palatine, IL 60067
Phone: (847) 221-6110
| | |
| --- | --- |
| Monday: | 9:00 AM - 9:00 PM |
| Tuesday: | 9:00 AM - 9:00 PM |
| Wednesday: | 9:00 AM - 9:00 PM |
| Thursday: | 9:00 AM - 9:00 PM |
| Friday: | 9:00 AM - 9:00 PM |
| Saturday: | 10:00 AM - 6:00 PM |
| Sunday: | 10:00 AM - 6:00 PM |