Immediate Care Clinic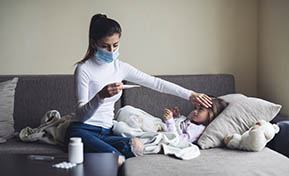 Immediate Care Palatine provides comprehensive medical care, from minor emergencies (such as treatment of cuts, fever, sprains, flu, cold, sore throat, asthma and other conditions) and School/Sport and Work Physicals.
Experienced Medical Team
At our walk in clinic, medical care is provided by physicians and Board Certified Nurse Practitioners who have extensive experience in Family Practice, Internal Medicine and Pediatrics. Our physicians also see most of the pediatric patients.
Palatine Immediate Care is a walk in, no appointment needed medical clinic. We treat families and individuals of all ages. The excellent team at our urgent care is available during our extended hours to treat any non-life threatening illness or injury requiring immediate attention.
Same Day Appointments Available
We reserve the time for several same day appointments so that you can see your doctor quickly - on the day that you get sick.
We realize how valuable your time is, and unlike many other medical offices, we honor the time of the scheduled appointments, so that you do not have to waste 30-60 minutes of your time waiting.
Our office accepts walk-in patients (no appointment). If you have an urgent condition and need immediate care, you will be seen without an appointment (for Emergencies dial 911 or go to the nearest ER).
We provide On-site Labs, X ray and Ultrasound.
Our Location
371 W. Northwest Hwy
Palatine, IL 60067
Phone: (847) 443-5588
| | |
| --- | --- |
| Monday: | 9:00 AM - 9:00 PM |
| Tuesday: | 9:00 AM - 9:00 PM |
| Wednesday: | 9:00 AM - 9:00 PM |
| Thursday: | 9:00 AM - 9:00 PM |
| Friday: | 9:00 AM - 9:00 PM |
| Saturday: | 10:00 AM - 6:00 PM |
| Sunday: | 10:00 AM - 6:00 PM |